Armor Arlie


Japanese Name
アーマー・アーリィ
Romanized Name
Āmā Aryi
Nickname(s)
NA

Armor Arlie (アーマー・アーリィ) is one of the main protagonists of Magical Girl Raising Project: ACES and Magical Girl Raising Project: QUEENS.
She is a Magical Girl wearing armor who kidnaps Shadow Gale. She does not speak and is good at games.
The following information contains spoilers after ACES. Click to reveal:
Appearance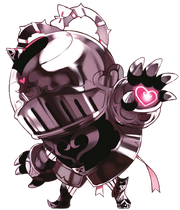 Original Self
See Demon.
Magical Girl
As a Magical Girl, Armor Arlie wears armor.
Personality
Armor Arlie doesn't speak but is very good at playing video games, which she does with Shadow Gale.
Magic
To become stronger after receiving more attack
When she is attacked, the black mud, which presumably constitutes the demon, will come out from the gap of her armor. The mud will cover the armor, change its shape, and make it thicker and stronger.
Relationship
When Shadow Gale was kidnapped she was responsible for taking care of her. She plays video games with Shadow Gale and seems to get along well with her.
Princess Deluge and Armor Arlie are partners.
During ACES Blue Bell Candy and Armor Arlie are partners.
Blade Brenda and Armor Arlie are partners.
Cannon Catherine and Armor Arlie are partners.
During QUEENS Armor Arlie is working for Puk Puck.
Trivia
Ad blocker interference detected!
Wikia is a free-to-use site that makes money from advertising. We have a modified experience for viewers using ad blockers

Wikia is not accessible if you've made further modifications. Remove the custom ad blocker rule(s) and the page will load as expected.