Dreamy☆Chelsea/Chie Yumeno


Japanese Name
ドリーミィ☆チェルシー/夢野 千枝
Romanized Name
Doriimyi ☆ Cherushii/Yumeno Chie

Dreamy☆Chelsea (ドリーミィ☆チェルシー), also known by her real name Chie Yumeno (夢野千枝),is one of the characters of Magical Girl Raising Project: breakdown.
She is designed by めるさん.
In breakdown, she was hired by John Shepherdspie to serve the guests that had arrived on the island.
Appearance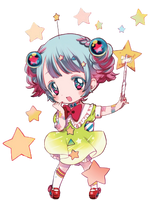 Human
Magical Girl
As a Magical Girl, Dreamy☆Chelsea has short, pale blue hair with light pink gradients/tips. It has braids on the top sides the curls with choppy-curly ends. At the top sides, she has orb-like things that appear to be dark blue with red stars and yellow highlights. She has choppy bangs slightly swept aside. She also has choppy strands which are chin-length and slightly curl inwards.
Her eyes are dark blue that have hot pink accents at the and hot-pink coloured pupils at the end. Her eyelashes are dark blue and her eyebrows are a pale pink. At the top, she has a yellow star connected by a long line at the top of her head. She wears a red choker with 2 blue orb-like things at the fronts with light red accents.
She wears a lime green dress that fades to a yellow then white at the bottom with ruffles underneath. It is decorated white star and comet patterns on it. Her cuffs are white with blue buttons on the left sides. She also has a white collar-like thing which resembles a ribbon with frills around it and a big red bow on top of it. She has pastel star tattoos on her arms and wrists with yellow stars which are pointing to the left and right. She also has nails which are painted red. It has a yellow star,
She wears white kneesocks with pink and white lines that repeat with white star-like decorations at the side. She has a pale green star design at her left knee and a yellow star, a turquoise-green triangle and another yellow star in the middle and to the bottom of her dress. At the back, she has a blue bow with thick white strips going sideways at the left. She wears red mary-jane shoes with yellow accents at the ends. At her sides, she has pink swirly things and blue accents at the right sides. She is shown to hold a white wand and with a white stick that has a candy cane-like design. It has a yellow design with sellotape at the back. She is also surrounded by more pastel stars in different sizes.
Personality
Chelsea seems to be a friendly person with the other people around her, she proves to be communicative and sociable with her partners and her relationship with them seems to be flowing well.
She also always try to do her best to help others and really enjoys being a magical girl.
Magic
To manipulate stars from her wand
She can manipulate star-shaped objects.
Relationship
Her mother is always pushing her to get a job due to her age.
He is her employer.
Due to Dreamy☆Chelsea carelessness, John Shepherdspie would be bedridden as he fell down one floor below and had inhale the smoke which the fire had cause.
They are partners and are on good terms with each other, working together to greet the mages and magical girls and helping to beautify the worn mansion. She would later help her to repaired broken parts of the building.
Due to Love Me Ren-Ren magic, Dreamy☆Chelsea would fall in love with Pastel Merry, even stealing 7753's goggles and giving it to her as a present.
Trivia