Dreamy☆Chelsea/Chie Yumeno


Japanese Name
ドリーミィ☆チェルシー/夢野 千枝
Romanized Name
Doriimyi ☆ Cherushii/Yumeno Chie

Dreamy☆Chelsea (ドリーミィ☆チェルシー), also known by her real name Chie Yumeno (夢野千枝),is one of the characters of Magical Girl Raising Project: breakdown.
She is designed by めるさん.
Appearance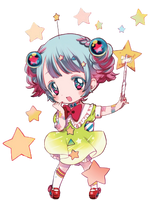 Human
Magical Girl
As a Magical Girl, Dreamy☆Chelsea has short, curly, periwinkle hair with pink gradients. She has bangs. Her dress is yellow with a white edge, her socks are black with yellow and pink lines.
Personality
She is friendly is on good terms with her partners, and is always doing her best to help.
Magic
To manipulate stars from her wand
Relationship
Dreamy☆Chelsea's Mother
Her mother is always pushing her to get a job due to her age.
He is her employer.
They are partners and are on good terms with each other, working together to greet the mages and magical girls and helping to beautify the worn mansion.
Trivia