Monoshiri Mi-Chan


Japanese Name
物知りみっちゃん
Romanized Name
Monoshiri Mitchan
Nickname(s)
NA

Monoshiri Mi-Chan (物知りみっちゃん) is one of the main protagonists of Magical Girl Raising Project: ACES.
She is a Magical Girl who specializes in assassination. She joins the team as a chief role.
Appearance
As a Magical Girl, Monoshiri Mi-Chan has platinum blonde hair pulled up in weird pigtail braids with short bangs. She has small eyebrows and red eyes with her right eye being darker red with a lighter red X inside. She wears a graduation cap with an owl on the front and on the tassel there is a bow and raccoon tail thing on the bottom.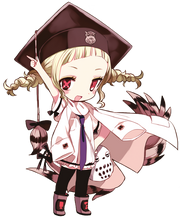 Personality
Magic
To change an object in her hands to something else
She can change any object in her hands by changing a syllable in the object's name. She must change exactly one syllable from the object's name and it has to be non-living object.
The objects need to be in her hands, and therefore, she has enhanced arm strength. The names of the original object as well as the changed object need to be shouted (ventriloquism works) to perform the magic.
Relationship
Monishiri Mi-Chan and Dark Cutie are partners.
Monishiri Mi-Chan and Glassiane are partners.
During ACES Monishiri Mi-Chan was countered by Pfle to help Princess Deluge.
Pfle hired Monishiri Mi-Chan
Trivia
Part of Monoshiri Mi-Chan's name, "Monoshiri" (物知り), means "Know-it-all" or "Knowledgeable".