Patricia/Shia Hattori


Japanese Name
パトリシア
服部 シア
Romanized Name
Patorishia
Hattori Shia
Nickname(s)
NA

Personal Information

Debut Age and Occupation
---
Gender
Female
Status
Deceased
Partner(s)
Shadowgale
Pfle
Kills
None
Killed By
Princess Deluge
Likes
Doing her best
Carp kanroni
Hates
Being called a "gorilla"
Being forced to wait

Patricia (パトリシア), also known by her other name Shia Hattori (服部シア), is a character in Magical Girl Raising Project: ACES.
She is Shadow Gale's escort captain, leading a mercenary group. She is called "gorilla" because of her good melee ability.
Appearance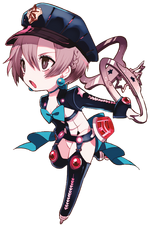 Human
Magical Girl
As a Magical Girl, Patricia has short, braided brown hair going down between her eyes, and brown eyebrows.
She wears a blue police-officer hat with pink stripes and a golden badge and large, round blue earrings.
She has brown eyes with white pupils, bright-pink circles going around the pupil, short brown eyelashes, deep-pink blush, and is paler than other characters.
For her outfit, she wears a pale bodysuit with dark stripes that covers only her torso, a jacket that goes over her arms, which has neon-pink stars on the shoulders, neon-pink lines with tiny hearts on them, neon-pink dots on the rim and her jacket is flipped up at the end which has reddish-pink bulbs on it, she also has a blue choker with a bow attached to the back, large, reddish-pink alarms on her hips, a large blue bow on her back, a blue bow on top of her breasts, a blue belt on her hips, which connects to the belt under breasts, that has neon-pink dots and is also connected to her boots.
On her boots, she has bulbs on the knee that are a reddish-pink color, neon-pink lines with tiny hearts on them and golden roller skates on the bottom of her feet.
Personality
Magic
To nullify enemy's magic with her magical handcuffs
She can nullify the opponent's magic using her magical handcuffs. It's not necessary to cuff the opponent's hands—any other body part would work. The handcuffs cannot be destroyed; a key is needed to remove the handcuffs.
Special Item(s)
Magical Handcuffs: Patricia's handcuffs that can nullify enemy's magic. They can be used by people other than Patricia herself.
Relationship
During the events in ACES, Pfle goes to Patricia for help.
During the events in ACES, Pfle asks Patricia to escort Shadow Gale.

Trivia
It is unknown whether "Shia Hattori" is her real name or an alias.