Uttakatta


Japanese Name
ウッタカッタ
Romanized Name
Uattakatta
Nickname(s)
NA

Personal Information

Debut Age and Occupation
---
Gender
Female
Status
Deceased
Affiliation
Freelancers
Partner(s)
Filuru
Kafuria
Kills
None
Killed By
Shufflin
Likes
Flattering great people
Overalls
Hates
Not getting paid
Uprightness

Uttakatta (ウッタカッタ) is one of the main protagonists of Magical Girl Raising Project: JOKERS.
She is a freelancer who has a polite tone. but her politeness is actually feigned.
Appearance
As a Magical Girl, Uttakatta has short dirty blonde hair, that has a burst shape on the forehead.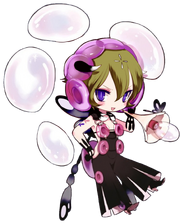 Personality
She at first appears to be a distantly polite, but is quite greedy.
Magic
To make mysterious bubbles
She can create mysterious bubbles by blowing into her unique straw. Size and strength of the bubbles can be adjusted freely. If the strength is the strongest, it won't break easily even if a Magical Girl strikes it.
Also, the bubbles have a fixed amount of floating power that will allow it to float even with a human inside as long as the bubble is made big enough. The bubbles can be freely moved around and freely destroyed by Uttakatta.
Relationship
During the events of JOKERS, Filuru and Uttakatta teamed up.
Kafuria and Uttakatta were partners before the events of JOKERS.
Trivia
In Fanbook 1, Uttakatta has the following stat:
Physical Ability: 4/5
Communication Skill: 4/5
Magic Rarity: 2/5
Magic Experience: 4/5
Mental Strength: 4/5
Vital Capacity: 5/5
Uttakatta's name, ウッタカッタ, sounds similar to Japanese word 泡沫 (Utakata), which literally means "bubble".
The author originally wanted to name her ぷくぷくかるーたん (Buku-Buku Tan/Blowy Blowy), but it got rejected.
Ad blocker interference detected!
Wikia is a free-to-use site that makes money from advertising. We have a modified experience for viewers using ad blockers

Wikia is not accessible if you've made further modifications. Remove the custom ad blocker rule(s) and the page will load as expected.